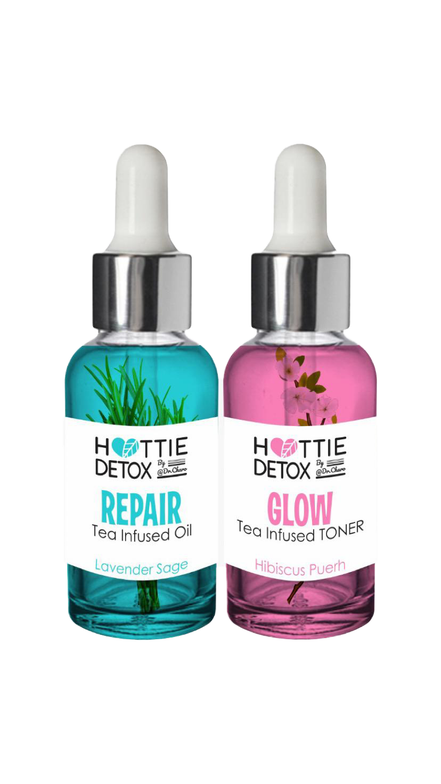 Skin Rescue
skincare
Description
Quench dry skin with Dr. Charo's serum's water-esque consistency which instantly absorbs into your skin! Unlike other serums that take up to two minutes to fully absorb, our formula takes less than 30 seconds, so you can quickly continue with your beauty routine!
The unique process behind our wellness tea based serum involves hand-steeping the hibiscus flower leaves and brewing an antioxidant rich, refreshing red tea and pea flower which creates the baby pink and blue colors we adore. With a light, fresh grapefruit scent, you will fall in love with our clean, plant-based and holistic VIT-C Serum for skin that feels radiant the moment it touches your face!
Super ingredients:
Tea: Rich in vitamin c, hibiscus flower, butterfly has been used for centuries in tea and skincare routines alike
Hyaluronic Acid: Hyaluronic acid hydrates the skin delivering long lasting moisture, making your skin feel smoother throughout the day
Vitamin-C: A vital molecule for skin health, it is rich in antioxidants and bursting with hydrating and protective benefits
We create skincare you can be confident in! Our Tea Infused Serums is cruelty-free, made with organic ingredients and hand prepared in small batches, right here in our Miami headquarter! Developed with 100% pure plant extracts, our  Serum scontains natural mineral ingredients which means no harmful fillers, preservatives or chemicals added and perfect for all skin types!
Apply in your AM / PM routine after cleansing and toning skin.
REAL PEOPLE – REAL RESULTS FAST!!
Whatsapp